Trident Glacier
May 2006 with Carl Tobin and Aaron Thrasher
Photos copyright 2006 Jed Brown.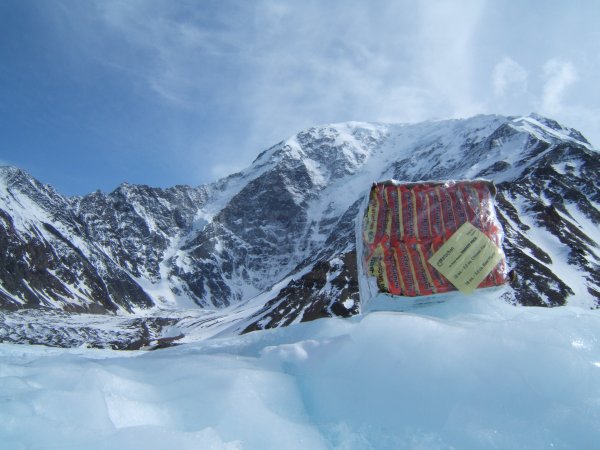 We flew to the Trident Glacier from Talkeetna with Paul Roderick on May 10. With lots of good food, I couldn't figure out why we had so much Ramen. This photo shows the North Face of Moffit and the unclimbed Northeast Ridge on the left. We made it across the notch on our push, but we suspect that we did no more than one third of the difficult climbing on the ridge.
There is only one route on the North Face. It is 2400 meters from glacier to summit and the steep wall on the left is 1500 meters. It diagonals right above the Ramen box and is subject to lots of serac danger. Of the first ascent, Brian Teale said, ``It was like climbing with a gun to my head for a day and a half.'' Initially, we entertained thoughts of attacking the huge wall to the left or doing a route which starts to the right and diagonals left above the wall. These are relatively safe from serac fall, but we recieved 5-20 cm of snow during every calendar day of our trip thus ruling out getting onto such a huge face.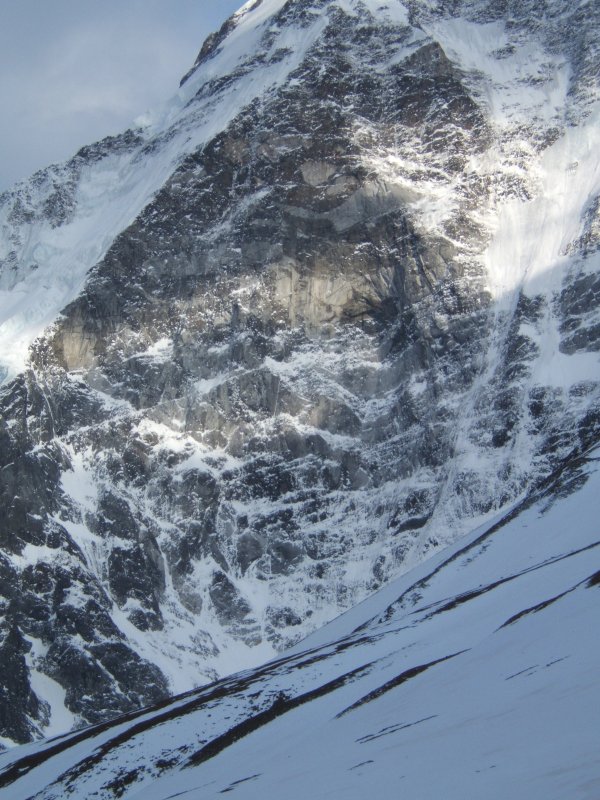 This photo shows over 1500 meters of relief on the North Face of Moffit.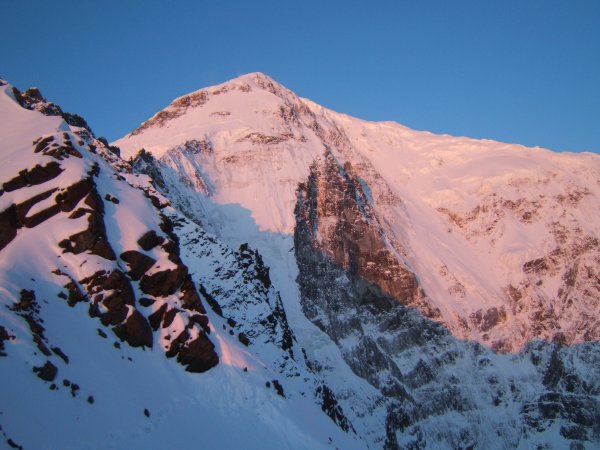 The North Face as seen from the Northeast Ridge in the 5 AM sun.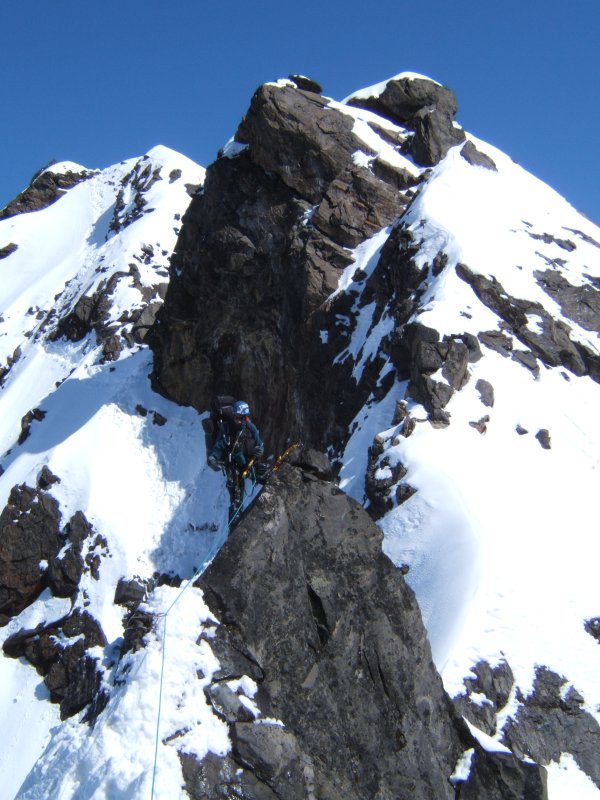 Carl Tobin following on the Northeast Ridge of Moffit.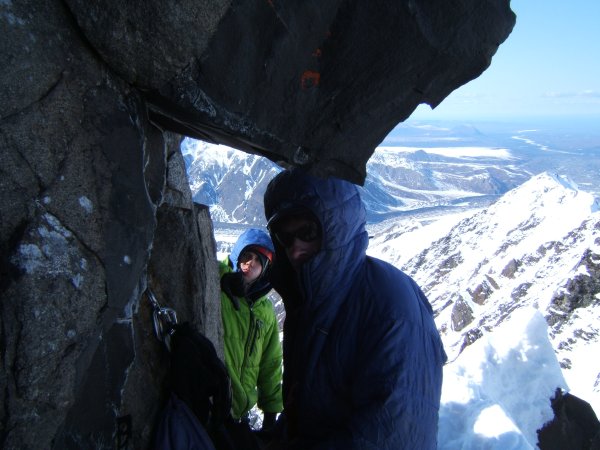 After rapping 10 meters off a spire on my lead, we had a conference and decided to bail. We had done two simul pitches and five 70 meter leads on the ridge. Things were just going too slow. As it turned out, what had been beautiful weather closed in shortly after we started rapelling a gully on the other side of the ridge.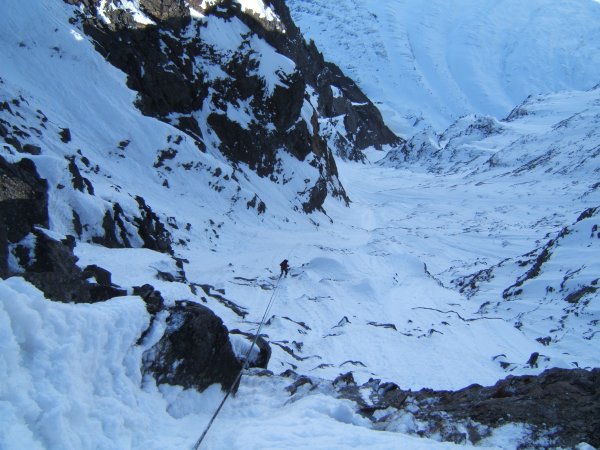 What looked like a nice gully from above turned out to be fresh snow over compact rock. We did 12 70 meter rappels in this gully. Nearly every one required lots of effort to find an anchor and only one suspect piece could be found. Carl did a great job as anchor man in the gully and we all felt lucky when we we were down.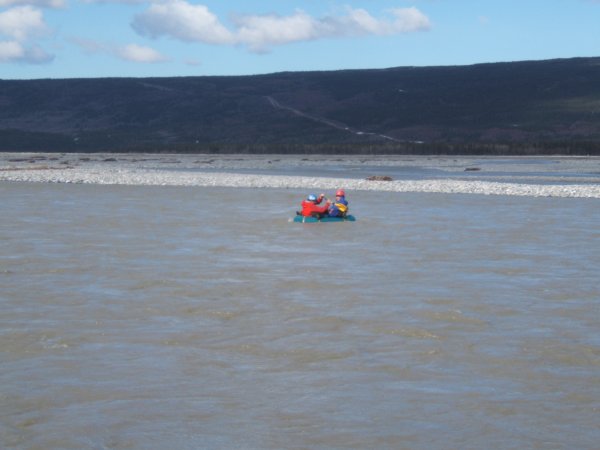 Crossing the Delta River with the pack raft.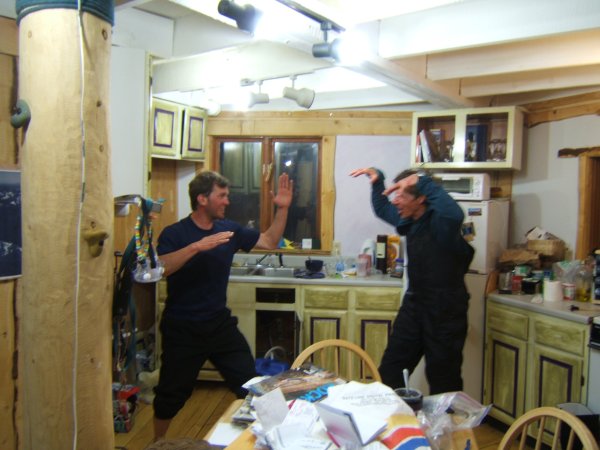 Aaron's ninja beats Carl's yeti for use of the Jeff's couch.
Contact: Jed Brown jed AT 59A2 DOT org