Lecturer: Jed Brown, PhD student, VAW, ETH Zurich
PDF version. Updates will be posted here.
Update 2009-01-27: slides available for lecture 2
Update 2009-01-29: slides available for lecture 3
Update 2009-02-05: slides available for lecture 5
Time and place
Five lectures: Tuesday and Thursday, 13:00 to 14:00
Chapman building, room 106
What is a scalable solver?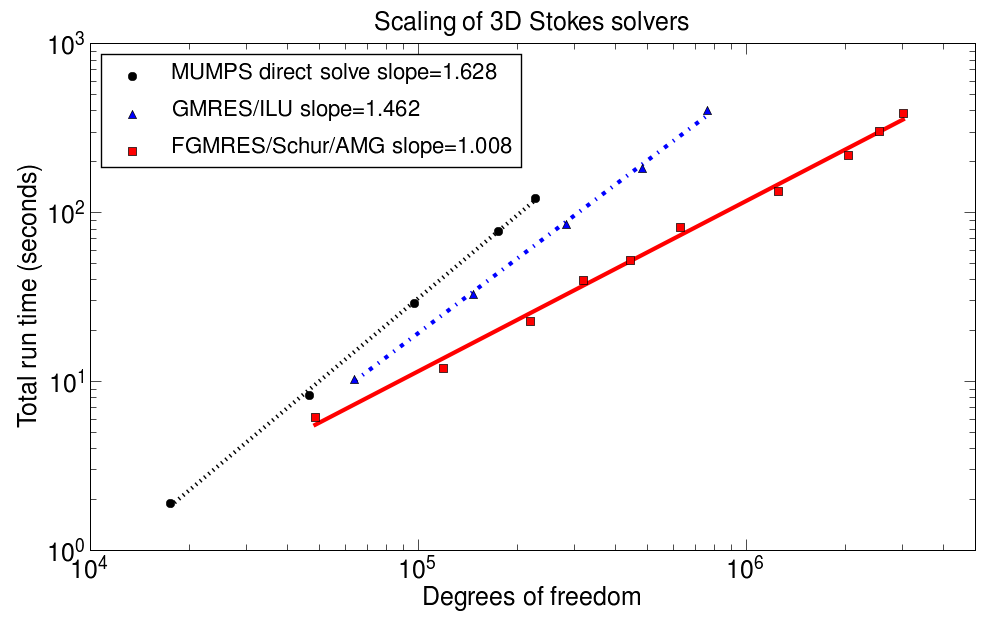 A scalable solver can solve N equations in N unknowns with O(N) work.
Newton-Krylov methods offer:

Quadratic convergence on the nonlinearity
Parallel scalability and mesh-independence for the linear solve
Is it time to look at your solver?
Is your solver using significantly more time or memory than the physics?
Is your time stepping limited by stability?
Are you putting loops around the analysis?
Proposed schedule
Schedule and content are flexible, let me know if you have requests.
Have a look at my AGU poster for a bit of a preview.
References
Kelley. Solving nonlinear equations with Newton's method, 2003.
Benzi, Golub, Liesen. Numerical solution of saddle point problems, Acta Numerica, 2005.
Elman et. al. A taxonomy and comparison of parallel block multi-level preconditioners for the incompressible Navier-Stokes equations, JCP, 2008.
The Knoll and Keyes paper is especially recommended. Please email me if you need a copy of these or anything else.